MAS, première perte d'exploitation depuis 2006.
Sur Forbes :
Associated Press, 06.12.09, 06:05 AM EDT
KUALA LUMPUR, Malaysia -- Malaysia Airlines said Friday it plunged into the red in the first quarter, hit by a triple blow of overcapacity, fuel hedging losses and the global economic
slump which hurt passenger and cargo demand.
It warned of tough prospects this year as airlines are forced to cut fares to boost sales.
The flag carrier posted a net loss of 695 million ringgit ($199 million) for January-March, compared to a profit of 120 million ringgit a year earlier. The decline was blamed on derivative losses - mostly losses on its fuel hedging contracts - of 557 million ringgit, it said in a statement.
Revenue fell 28 percent to 2.7 billion ringgit ($771 million) as the percentage of seats filled fell
sharply while yields - which measures income per seat - dwindled further, it said.
Managing Director Idris Jala said the airline has cut passenger capacity by 11 percent in the first quarter and may further reduce capacity to cut cost in line with falling demand.
Its operating loss for the quarter was 138 million ringgit ($39 million).
"This is the first operational loss for Malaysia Airlines since the third quarter of 2006 as it faced a triple squeeze: overcapacity, extreme fuel volatility and a global slump," he told reporters.
But he said the airline's fundamentals remained strong, with a cash balance of 3.8 billion ringgit ($1.1 billion).
The airline said air travel demand was expected to remain soft. It warned that the "outlook remains challenging as yield pressures continue to mount as airlines proceed to reduce fares and fuel surcharges to encourage consumers to travel."
The flag carrier said it has decided to maintain its fuel hedges as oil prices rallied past $70 a barrel recently. It has hedged 47 percent of its fuel requirement this year, 60 percent of its needs for 2010 and 40 percent for 2011 at a price of around $100 a barrel, Jala said.
He said Malaysia Airlines will further trim costs by up to 1 billion ringgit ($286 million) this year
with no new aircraft deliveries until the end of 2010, freezing new recruitment and cutting budgets across the company.
He said the World Health Organization's move to raise its influenza pandemic alert for swine flu to its highest level was a "point of concern going forward" but didn't elaborate.
Malaysia Airlines had net profit of 244 million ringgit ($68 million) in 2008, down sharply from a record 851 million ringgit in 2007.
The International Air Transport Association on Monday predicted the world's airlines would
collectively lose $9 billion this year - nearly double the previous projections. Asia-Pacific's carriers are expected to be the hardest hit with losses of $3.3 billion, worse than the previous forecast of $1.7 billion.
http://www.forbes.com/feeds/ap/2009/06/12/ap6536808.html
Je place un tableau que l'on trouve rarement en ligne sur Wikipedia, en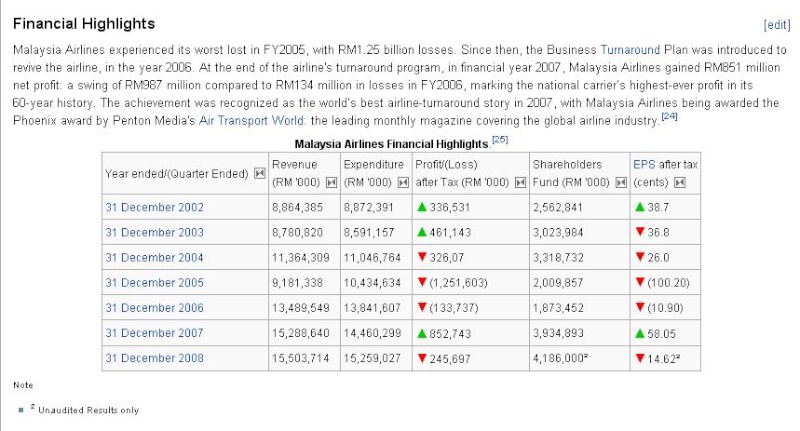 http://en.wikipedia.org/wiki/Malaysia_Airlines
Et sur le même site, la composition de la flotte pax :