Bonjour à tous
Celui là je ne connaissais pas encore...
Ah si en fait
C'est un dérivé du Z8 comme mentionné ici
http://china-defense.blogspot.com/2010/02/china-poised-to-fly-ac313-helicopter.html
Mais pas là
http://www.flightglobal.com/articles/2010/02/09/338145/china-poised-to-fly-ac313-helicopter.html


China poised to fly AC313 helicopter
By Leithen Francis

China is preparing to fly its AC313 medium-lift helicopter for the first time in March, leading to certification in 2011, says an official at the manufacturer Avicopter, a division of China's state-owned aerospace conglomerate AVIC.

The AC313 is a 13t helicopter that "can be extended to 15t" and the external load capacity "can be 5t", says the official. China developed the AC313 on its own rather than collaborating with foreign partners.

"The avionics system [for example] was independently developed by China," says the official, who says the helicopter is designed for "passenger and cargo transport, firefighting, search and rescue, emergency medical services, oil offshore services and VIP flights". Potential customers include government, police and general aviation firms, the official adds, who says the AC313 can carry 27 passengers or 4t of cargo.

Avicopter also manufactures the H425, a 4.25t helicopter that made its first flight in December 2004. This smaller helicopter is pitched at the same type of customers as the AC313. China is putting more emphasis on helicopter development following the May 2008 Sichuan earthquake.

Avicopter is also carrying out a feasibility study with Russian Helicopters, the consortium that includes Mil, to develop a 20t-plus heavylift helicopter.


Classe 13t, avec marge de développement à 15t
Premier vol en mars
Certification en 2011...
4T de cargo ou 27 PAX
Avionique indigène
Pour ce qui concerne la cellule je vous laisse deviner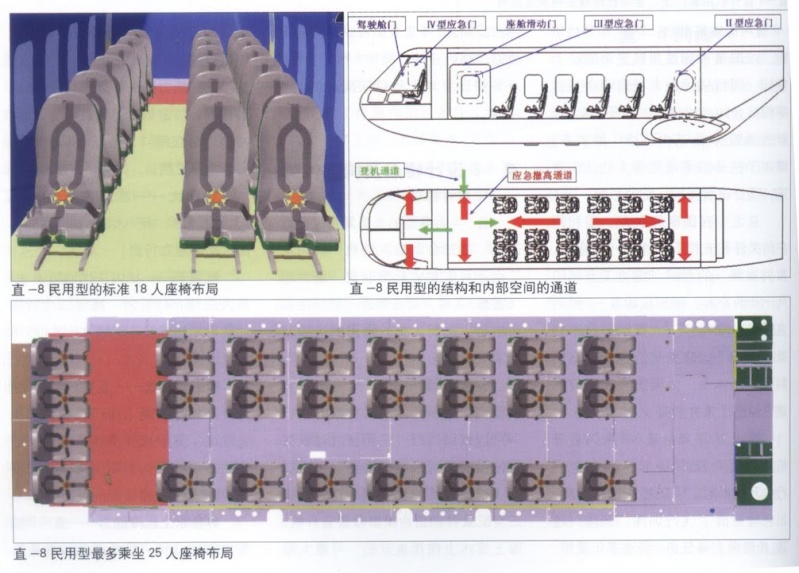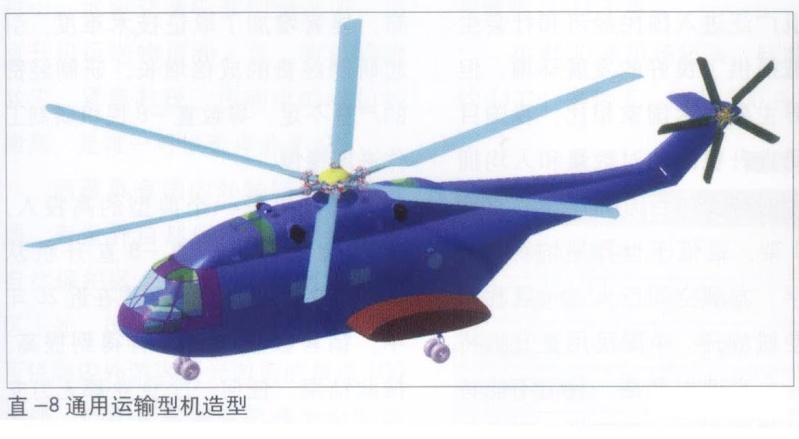 Il ressemble bougrement à notre bon vieux superfrelon
Et pour cause
Comme il n'y a pas grand chose à ce jour sur la version civile, quelques éléments sur la version militaire chinoise
http://www.sinodefence.com/airforce/helicopter/z8.asp
Zhi-8 (Z-

is a medium transport helicopter developed from the French SA 321 Super Frelon, of which 13 examples were sold to the PLA Navy in 1977~78. At least one of these helicopters was disassembled for survey and reverse-engineering. Development of the Chinese copy of the SA 321, designated Z-8, began in 1976 at the Jingdezhen-based Changhe Aircraft Factory (now Changhe Aircraft Industry Group, CAIG). However, the Z-8 development encountered enormous technical difficulties and the project was suspended in 1979 due to financial reasons.

In 1985, Changhe resumed the Z-8 programme with its own funding, and the first prototype successfully flew in December 1985. The Z-8 entered the PLA Navy service in 1989 for trial and evaluation, but the helicopter was not certified for design finalisation until 1994. Only a small number (15~20) have been built. The helicopter was mainly deployed by the PLA Navy for transport role from land-based airfields.

Z-8A

Development of an army variant designated Z-8A began in the mid-1990s, and the helicopter was certified for design finalisation in February 1999. After two examples were delivered to the PLA Army Aviation Corps for operational test and evaluation, Changhe began the delivery of the first production batch in November 2002. Currently a small number (4~6) of the Z-8A is operated by the PLA 7th Helicopter Regiment in the Jinan Military Region.

The Z-8A is similar to the basic variant Z-8 in appearance, apart from its Army woodland camouflage colour scheme instead of the naval grey colour of the Z-8. The Z-8A also retained the nose weather radar and the side floating stabilisers on the original Z-8. The helicopter can carry 27 equipped commandos, or 39 soldiers, or 15 stretchers. If necessary, the helicopter could also carry a small-size SUV-type vehicle via its loading ramp. The helicopter is unarmed.

Z-8F

During the 2002 Zhuhai Air Show, Changhe Aircraft Industry Group (CAIG) announced that it was developing a new utility variant Z-8F, which would be powered by three Pratt & Whitney Canada PT6A-67B turboshaft engines for improved performance. The helicopter made its maiden flight in August 2004.

Z-8K/KA

The PLA Air Force introduced the Z-8K as a dedicated search and rescue (SAR) helicopter in 2007. The helicopter appears to be based on the Z-8F design, featuring the Pratt & Whitney Canada PT6A-67B turboshaft engine and redesigned air inlets. As well as having a hydraulic hoist fitted externally above the cabin door, the helicopter also featured an external forward-looking infrared (FLIR) sensor and a search light fitted underneath the cockpit. There are two variants currently in service: Z-8K with a blue-white camouflage scheme operated by the PLAAF 26th Air Division, and Z-8KA with a green colour scheme operated by the PLAAF Airborne Corps.

Z-8JA/JH

A shipborne variant designated Z-8J has recently entered service with the PLA Navy. As the original variant Z-8 did not possess the ability to take-off and land on surface vessels, the Z-8J features some modifications in its landing gears to allow shipborne operations. There are two variants currently in service: Z-8JA for shipborne transport and resupply roles, and Z-8JH for the medical evacuation role.

Design

The Z-8 is identical to the SA 321 Super Frelon in appearance, with a six-bladed main rotor mounted above centre of the fuselage. Of the three turboshaft engines, two are mounted side-by-side atop the fuselage forward of main rotor, with the third behind the main rotor. Round air intakes are located above and behind cockpit. Boat-hull type fuselage mounts stabilising floats on either side of the body, which has fixed landing gear and an upswept rear section. The landing gear of the Z-8 is larger in size compared to that of the SA 321. The nose is round with glassed-in cockpit. The tail boom tapers from the main body to the swept-back, tapered fin with a rotor on the left. The single flat is tapered and flat-mounted on the right side of the fin. The army variant Z-8A also features a large rear ramp for fast access by the troops.

Mission Equipment

The Z-8 has a hoist with winch and scoop fitted externally above the starboard side cabin door for rescue missions. For transport missions, the helicopter can carry 27 armed soldiers (maximum 39), or 15 patient litters and a medical staff, or 5,000kg cargo externally on sling.

The Z-8 lacks the ASW equipments and surface search radar found on the original SA 321, nor can it operate from the flight deck of surface vessels. A nose dome in front of the cockpit houses a Chinese indigenous navigation / weather radar.

Engines

The basic variant Z-8 has three WZ-6 (Chinese copy of Turboméca 3C III) turboshafts, each rated at 1,512hp (1,128kW). The internal fuel capacity is 3,900 litres. The improved Z-8F will be fitted with three Canada-made Pratt & Whitney PT6A-67B turboshaft engines, each rated at 1,941hp (1,448kW).

See Also

Flight crew: 2

Length: 23m

Main rotor diameter: 18.9m

Height: 6.76m

Weight (empty): 6.86t (Z-

; 7.1t (Z-8F)

Weight (maximum take off): 13t

Engine: 3 x WZ-6 turboshafts, each rated at 1,512hp (Z-

, or 3 x Pratt & Whitney PT6A-67B turboshaft, each rated at 1,941hp

Internal fuel: 3,900 litre

Maximum speed: 248km/h (Z-

; 255km/h (Z-8F)

Service ceiling: 3,100m (Z-

; 4,700m (Z-8F)

Hover ceiling (in ground effect): 1,900m (Z-

; 2,800m (Z-8F)

Range: 700km (with 27 soldiers), or 500km (with 3,000kg payload)

Endurance: 4 hours

Maximum payload: 5,000kg

Typical load: 27 troops or 15 stretchers
Reverse engineering... ! Qui a nécessité entre 176 et 1994 (mise en service !) 18 ans quand même
Différentes versions militaires...
A noter que les dernières versions sont motorisées par de modernes PT6... en remplacement des Turmo d'origine
A voir quelle motorisation est adoptée pour la version civile...
Bonne journée