THY toujours profitable en 2008, 11% de hausse de la capacité, 13% pour le trafic, une flotte passée de 105 à 127, avec des coûts de carburants en hausse de 44%
Sur
Aviation Week
:
Turkish Airlines' 2008 net profit rose 26% to $874 million compared to the previous year on a similar rise in revenue to $4.7 billion.
These increases were achieved on an 11% year-on-year rise in capacity and a 13% growth in traffic. Passenger number rose 15%, compared to 2007 with 22.6 million.
At the same time, Turkish's fleet grew to 127 aircraft from the 105 operated at the end of the previous year.
In a financial report the carrier said 78% of its revenue was derived from international traffic and the
remaining 22% from domestic services. The load factor for 2008 was 73.9%, a 1.2-percentage-point improvement on 2007.
Fuel costs rose 44% in 2008, the carrier noted in its release, adding $441 million in additional
costs, but Turkish still posted a gross profit margin of 10.3% and a 9.6% net profit margin. "The appreciation of foreign exchange rates had a positive effect on financial income and expenses, which had an impact on the net income as well," Turkish added.
The airline noted it is still in the tender process for up to 35 widebodies and 70 narrowbodies started
in 2008 (DAILY, Oct. 14, 2008).
http://www.aviationweek.com/aw/generic/story.jsp?id=news/TURK04139.xml&headline=Turkish%20Reports%2026%%20Rise%20In%2008%20Profit&channel=comm
Des liens pour THY :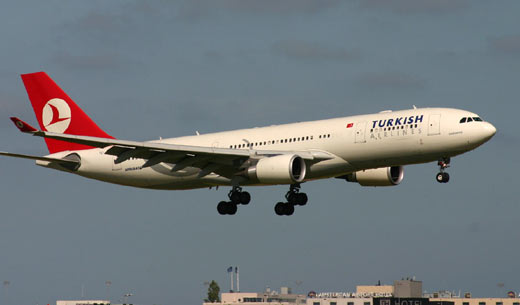 http://fr.wikipedia.org/wiki/Turkish_Airlines
http://en.wikipedia.org/wiki/Turkish_Airlines
http://www.thy.com/en-INT/corporate/about_us/fleet/index.aspx